In the digital age, a stunning and user-friendly website is essential for personal brands, businesses, and entrepreneurs alike. But how do you bring your vision to life without breaking the bank? Fiverr, a dynamic online platform, offers an impressive array of talented website designers eager to turn your ideas into reality. In this comprehensive guide, we'll explore the multifaceted world of Fiverr website design, address your pertinent questions, and empower you to make informed decisions.
The Appeal of Fiverr for Website Design
Is Fiverr a reliable choice for website design?
Fiverr has emerged as a trusted and accessible platform for securing top-notch website design services. Its diverse pool of skilled designers, each with a unique style and specialty, ensures that you can find the perfect fit for your project, regardless of its complexity or scope.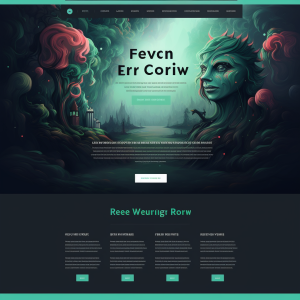 Hiring a Website Designer on Fiverr
Can you hire a professional to design your website on Fiverr?
Absolutely, Fiverr empowers you to collaborate with experienced website designers who possess the expertise to transform your concepts into visually captivating and functional websites. The process is intuitive: explore the profiles of freelance designers, evaluate their portfolios, and engage in open communication to convey your project's specific needs.
Pricing and Earnings
How much do website designers earn on Fiverr?
The income of web designers on Fiverr varies based on their skills and the complexity of the projects they handle. Talented designers often command competitive rates, offering clients a broad spectrum of choices to fit their budgets while maintaining the highest quality standards.
What is the typical cost of websites on Fiverr?
The cost of a website project on Fiverr spans a broad spectrum, influenced by factors such as the project's intricacy, functionality, and design requirements. Basic websites can commence at approximately $100, while more intricate endeavors, including e-commerce platforms or custom web applications, may range from $500 to several thousand dollars. To obtain an accurate quote, it's essential to engage in detailed discussions with your selected designer.
Advantages of Fiverr Website Design
Beyond affordability, Fiverr offers a plethora of advantages for website design ventures:
Diverse Talent Pool: Fiverr boasts a global community of web designers with diverse skills and aesthetics, ensuring that you can pinpoint the perfect match for your project's unique requirements.
Tailored Solutions: Freelancers on Fiverr excel in customizing their services to align seamlessly with your specific needs, guaranteeing that your website mirrors your brand and vision.
Swift Turnaround: Numerous Fiverr designers prioritize prompt project delivery, making the platform ideal for individuals and businesses facing time-sensitive requirements.
Reviews and Ratings: To foster trust and transparency, you can thoroughly assess designer profiles, including ratings and feedback from previous clients, enabling you to make well-informed choices.
Selecting the Ideal Designer
Choosing the right website designer on Fiverr is pivotal to the success of your project. Here are some strategic tips to guide your selection process:
Examine Portfolios: Meticulously review the portfolios of potential designers to assess their design styles and past work.
Evaluate Feedback: Dive into client reviews and feedback to gauge their satisfaction with the designer's work and professionalism.
Effective Communication: Maintain clear and open communication with your chosen designer, ensuring that your expectations align perfectly with the project's objectives.
Inquire Actively: Don't hesitate to ask pertinent questions about the designer's experience, workflow, and pricing structure.
Conclusion: Elevate Your Online Presence with Fiverr Website Design
Fiverr's website design services offer an extraordinary avenue for individuals, startups, and established businesses to materialize their online vision. With a wealth of talented designers, flexible pricing options, and tailored design solutions, Fiverr is your catalyst for creating a website that captures your essence.
Embark on your journey to a captivating online presence with Fiverr website design. Choose your designer wisely, communicate effectively, and watch your ideas come to life in the digital realm. More.