Have you ever thought about starting your own search optimization agency? As search engine optimization (SEO) becomes increasingly important for businesses trying to rank high in search results, there is growing demand for SEO services. If you have experience in SEO and a passion for helping businesses succeed online, starting your own agency could be a great career move.
In this fun and engaging guide, we'll walk you step-by-step through the process of launching your own search optimization agency. Let's get started!
Step 1: Educate Yourself on the Latest SEO Best Practices
The world of SEO is constantly evolving, so you'll need to brush up on the latest best practices before launching your agency. Stay on top of algorithm updates, new link building techniques, changes in how Google interprets content, and more.
Step 2: Pick Your SEO Niche
Rather than trying to be everything for everyone, it's smart to niche down and develop deep expertise in one specific area of SEO. This could be local SEO, ecommerce SEO, SEO for law firms, SEO for SaaS companies, or any other niche where you have experience. Picking a niche will help you market yourself more effectively.
Step 3: Build Out Your Services Offering
Once you've picked your niche, determine exactly which services you'll provide. This could include keyword research, technical SEO audits, content optimization, link building, site speed improvements, and more. Outline different service packages at different price points.
Step 4: Choose Your Business Structure
You'll need to decide whether you want to set up your agency as a sole proprietorship, partnership, LLC, or corporation. Consider issues like liability protection, taxes, and regulations. If you plan to bring on employees down the road, an LLC or corporation may be better.
Step 5: Handle Legal and Tax Requirements
Make sure you register your business, get all necessary licenses and permits, open a business bank account, and understand your tax obligations. Hiring an accountant can help ensure you stay compliant. Also purchase business insurance to protect yourself from liability risks.
Step 6: Develop Your Brand Identity
Create a name, logo, color palette, fonts, and other brand elements that reflect your agency's niche, personality and values. A professional brand identity makes your agency look polished and builds trust with potential clients.
Step 7: Build Your Website
Your website is often the first impression potential clients will have of your agency, so invest time in creating an appealing, user-friendly site. Make sure it communicates your brand identity and has clear calls-to-action for contacting you. Optimize the site for SEO as well.
Step 8: Create Content to Attract Clients
Develop a blog focused on SEO strategies for your niche. Share your expertise by posting in-depth articles, how-to guides, case studies, and interviews with industry experts. Promote your content on social media to drive traffic. Content is a great way to display your knowledge.
Step 9: Network Both Online and Offline
Networking helps you meet potential clients and partners. Attend industry events, join local business groups, and connect with peers on social media. Look for speaking opportunities at conferences to get exposure. Leverage your network for referrals.
Step 10: Consider Partnerships and Outsourcing
You don't have to run your agency completely solo. Partnering with complementary service providers or outsourcing tasks like content writing can help you scale. Just be selective about who you team up with.
Step 11: Define Your Ideal Client
Identifying your ideal client allows you to focus your marketing. Outline the client profile based on factors like company size, industry, goals, and budget. Use this profile to guide your targeting efforts on platforms like Facebook ads or Google Ads.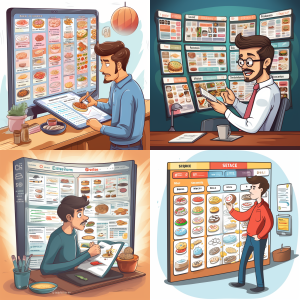 Step 12: Set Your Rates and Packages
Research industry rates for the services you'll provide so you can price yourself competitively. Offer different monthly retainer packages scaled to fit different budgets. Be flexible to accommodate clients with different needs. Avoid pricing yourself too low.
Step 13: Create Sales Materials
Develop professional sales and marketing materials to represent your services, like a one-sheet flyer, agency brochure, case studies, and sample proposals. These materials give prospective clients a window into what working with you will be like.
Step 14: Reach Out to Prospects
Start actively reaching out to potential clients through cold calls and emails. Respond to any incoming leads quickly. Make sure your outreach is focused on your ideal clients and highlights the value you can provide them. Follow up persistently.
Step 15: Leverage SEO for Your Own Agency
Don't forget to optimize your own agency website and content for keywords related to your niche and location. The better your organic search presence, the easier you'll be for prospects to find and contact.
Step 16: Consider Paid Advertising
Once you have some initial clients, paid ads like Google Ads and Facebook Ads can help you scale up your client base quickly. Target your ads towards other businesses in your location and niche. Track conversions closely.
Step 17: Wow Clients with Great Service
The best marketing is doing great work for existing clients. Provide an amazing experience by listening closely, clearly explaining your process, setting realistic expectations, and over-delivering on results. Strong referrals will follow.
Step 18: Expand Your Services Over Time
After establishing your core SEO services, look for opportunities to expand your offerings later on. This could include paid search management, social media marketing, web design, content marketing, and more.
Step 19: Build a Team
When you're ready to scale, begin hiring other SEO specialists, content creators, designers, programmers, and account managers to help service more clients. Take your time finding the right team members.
Step 20: Enjoy the Fruits of Your Labor
Starting a successful SEO agency takes dedication, persistence, and passion. But the payoff of having your own thriving business and satisfied clients makes it all worthwhile. Enjoy the journey!
And those are the key steps for launching your own search optimization agency! By following this fun guide, you'll be well on your way to SEO entrepreneurship. Just remember to stay focused on delivering real results for clients, and your agency can thrive for years to come. Happy optimizing!